President's Newsletter
September 20, 1014
Newsletter Number 6
Upcoming GCM Events
Sept 24-27, NGC Board Meeting Des Moines, Iowa
Tuesday, September 30, River Road District Meeting – Vicksburg
Wednesday, October 1, Hills and Delta District Meeting - Cleveland
Thursday, October 2, Tombigbee Valley District Meeting - Corinth
Tuesday, October 7, Natchez Trace District Meeting - Wesson
Wednesday, October 8, Southern Pines District Meeting – Forest
Thursday, October 9, Spanish Trail District Meeting - Diamondhead
Tuesday, October 14 – Fall Board Meeting in Starkville with Horticulture Symposium to follow on Wednesday, October 15 at MSU- National President, Linda Nelson, will be visiting us.
Friday, October 24 – Headquarters Fundraiser Greenwood – 3-D- Day, Design & Del Prince features Jim Del Prince – tickets $40—send check and SASE to Pattie Smith, 542 Northwoods Dr., Grenada 38901
November 4th and 5th, Landscape Consultant School llI, Lake Tiak O Khata contact: Melanie Gousset 662 226 9666
__________________________________________________________
Flower Shows, Garden Tours and Seminars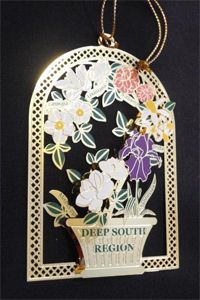 October 1 will begin a Cancer Awareness Bulb Sale and fund raiser. Pink hyacinths, pink tulips and white daffodils. Grenada Garden Club contact: Gerry Morris 662 417 1160 or Barbara Huddleston 662 226 6545.October 9-11, Greenwood. Nativity Antique Show with Peggy Snipes presenting a Floral Design Workshop during the lunch hour. Call 662 453 0365 for more info.
October 22 - 23 - Greenville Garden Club hosts their Flower Show Silver Service at St. James Episcopal Church on Main Street. Public welcome 2-4 p.m. on October 22 and 9-11 a.m. on October 23.
Deep South Region Christmas Ornament will be for sale at District Meetings. There are a few left, buy yours for $20 from Dotsie.
December 7, 1-5 p.m. Wiggins Garden Gate Garden Club presents a Country Christmas Tour of Homes. Tour six homes for $10. Contact: Claudell Rawls.
December 7, (Sunday), 1 p.m. Bay Waveland Garden Club presents Share the Beauty and Joy of Nature at Christmas Hancock Library, Hwy 90 East
__________________________________________________________
Award Changes and information
State #11 – Geraldine Dean Trophy Award (yearbook) will no longer be a silver cup but will be a monetary award of $50.
__________________________________________________________
Deep South Award Information update: We have been approved to award prize money of $250 for First Place, $150 for Second Place and $100 for Third Place for the Community Garden Project. This is at the state level. Applications due December 1 to May Hall. There is another round of award money on the Deep South level, so get those applications in by the deadline!
The chairmen of the Arboreta, Public Gardens, Blue Star Memorials have been making an attempt to update their lists of the CURRENT LOCATIONS of the aforementioned places. Many of you have responded to their requests but if you have not, please respond soon. We need these lists to be complete and do not want you to be left out, before we forward on the Deep South and National. See Miss Gardener for chairmen and email addresses.
"Protect, Beautify and Enjoy Our Gifts-our land, our resources, our friendships"
Mary Lynn Powers,
85 Melon Road, Greenville MS 38703
662 822 0221 cell or 662 335 2746