President's Newsletter
June 23, 2014
Newsletter Number 5
Upcoming GCM Events
Friday, August 1 Sustainable Landscape Short Course MSU or extension
Tuesday, August 19-21-Flower Show School II, Magnolia Electric, McComb contact: Melanie Gousset 662 226 9666
September 24-27, NGC Board Meeting Des Moines, Iowa
Tuesday, September 30, River Road District Meeting – Vicksburg
Wednesday, October 1, Hills and Delta District Meeting - Cleveland
Thursday, October 2, Tombigbee Valley District Meeting - Corinth
Tuesday, October 7, Natchez Trace District Meeting - Wesson
Wednesday, October 8, Southern Pines District Meeting – Forest
Thursday, October 9, Spanish Trail District Meeting - Poplarville
Tuesday, October 14 – Fall Board Meeting in Starkville with Horticulture Symposium to follow on Wednesday, October 15 at MSU- National President, Linda Nelson, will be visiting us.
Friday, October 24 – Headquarters Fundraiser Greenwood –
features Jim Del Prince – tickets $40—contact Debbie Cooper 662 299 857
Award Changes for the upcoming year
The National Garden Clubs Scholarship has increased to $4000 and Deep South Scholarships have increased to $3000 and there will be two given instead of just one.
Smokey Bear Poster contest will have $25 attached instead of just a certificate.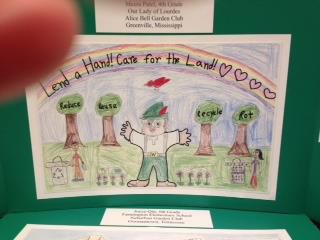 Merra Patel won first place in the Deep South for 4th grade. She is from Our Lady of Lourdes, Greenville.
__________________________________________________________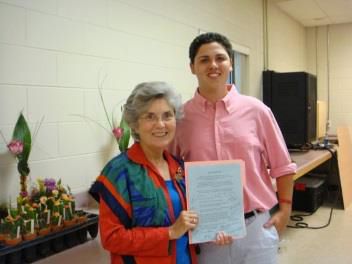 Recently, I attended the Awards Luncheon for our young people who attended the MSU 45th Horticulture and Landscape Architecture Summer Camp. I was presented a resolution honoring GCM. There were 25 who attended this year, with 9 coming from the Horticulture Classes in Lucedale. Remember we met them and their teacher in Lucedale.
Ginger Jones and I present Dr. Harkness with the check from GCM.
Just in case you wanted to see the outfits that Pat Young and I "created" from all those cans, ties, plastic bags and other trash, here we are at the Deep South Convention in St. Petersburg.
"Protect, Beautify and Enjoy Our Gifts-our land, our resources, our friendships"
Mary Lynn Powers,
85 Melon Road, Greenville MS 38703
662 822 0221 cell or 662 335 2746